The Warburton Souling Play - Gallery, 2nd Night 2003
---



The Second Night
4th November 2003

---
Following are a number of photographs from the second nights performances on Tuesday 4th November 2003. Clicking on the image will give a larger version in a separate window. With thanks to John Jocys whose camera it is for the pictures and to Linda Corrigan for pressing its button.



King George and the Old Woman 'in discussion' about the slaying of 'her' son. Taken in the deserted Wheatsheaf at Agden.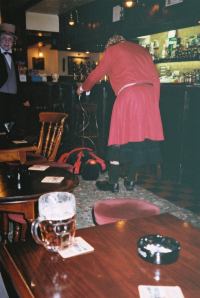 The Doctor, played that evening by Collin Brunold, and the Old Woman at the scene of the crime. Again in the Wheatsheaf.
Best not let Beelzebub know about that Beer!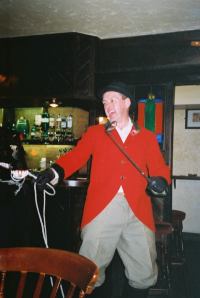 The Driver in full flow to the 'count them on one hand' audience in the Wheatsheaf.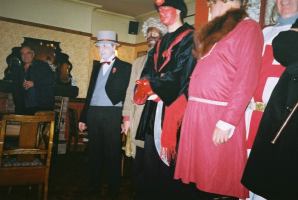 At the end of the performance in the Jolley Thresher in Broomedge the rest of the gang watch the Driver and Horse bring the play to it's conclusion.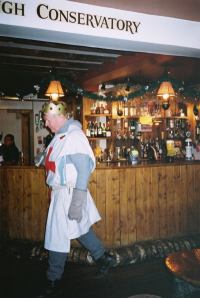 King George up to something?....
probably trying to ignore the Old Woman's rants.




This page updated: 9th December 2003.