The Warburton Souling Play - Gallery, 3rd Night 2004
---



The Third Night
4th November 2004

---
This selection of photographs comes for our first performance of the third night at the Black Swan in Hollinfare. With thanks to Colin Buckland for the photo. Colin was one of the early players back at the start of the revival and can himself be seen performing as the Driver here.
Clicking on the image will give a larger version in a separate window.

The Enterer staring the performance off at the Black Swan in Hollinfare.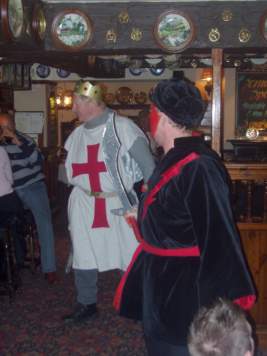 The Turkish Champion and King George about to let battle commence in The Black Swain in Hollinfare.
Mmm... not sure Goerge should be taking his eye of the cunning Turk!

This last one is of the Old Woman and King George discussing the state of the corpse, overseen by in interested member of the audience. Again in the Black Swan in Hollinfare.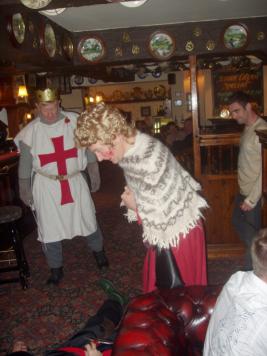 This page updated:21st November 2004.