Well, that's it for another year. The Warburton Souling Play has been and gone, and put away until 1st November next year (2018) when it will be 40 years since the play was revived. This year, therefore being our 40th season of performing the play.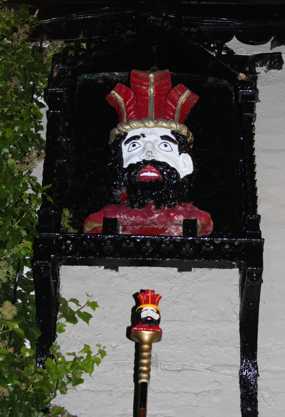 In summary, this year we took the Play out on Wednesday 1st November, round the Warburton and Dunham area; Friday 3rd around Knutsford; Saturday 4th in Lymm and the surrounding area; Thursday 9th in Sale and Urmston; Friday 10th in Altrincham and Hale and finally Saturday 11th for a performance at the Warburton Autumn Fair then around Bollington, Dunham and Heatley before finishing back to the Saracen's Head in Warburton later that evening for the last performance of the year. This was followed as usual by an evening of music and song at the refurbished Saracen's Head where we are indebted to our new hosts there, Priory Inn Northwest, for their hospitality and help in allowing the tradition to continue. Many thanks.
The complete list of venues of where we went is on the itinerary page.
As there was a bit of uncertainty earlier in the year after the Saracen's Head closed we had to go in search of an appropriate pub that we could use as an alternative. As it transpired the Saracen's Head was closed for 5 months before reopening with a new management company as mentioned above. However we would still like to offer our sincere thanks to Nick at the Spread Eagle in Lymm who offered his pub as a home for the last performance and following music session should we have found ourselves 'homeless'. As it has turned out that was fortunately not needed.
As mentioned on the home page, this year we were able to donate £1520 to the Trafford and South West Manchester Branch of the Multiple Sclerosis Society to whom we first donated when we revived the Play.
This page updated: 6th December 2017.