---
Souling in 2017
The 2017 Souling season has finished and so whilst we go away and recover from, and take stock of this year you can find out what went on in the 2017 season and accompanying pages. Needless to say we had a cracking year, although a bit quieter than normal in some places, but busier in others, it resulted in a record amount being collected that will in turn be donated to our chosen charity for this year, the Trafford and South West Manchester Branch of the Multiple Sclerosis Society.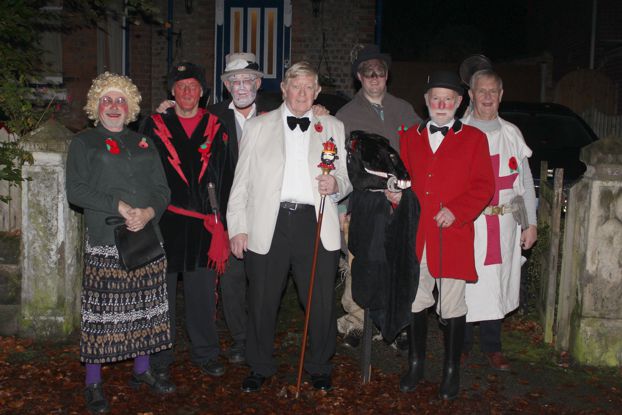 The Gang prior to leaving for the Saracen's Head - 1st November 2017
There was a fear that this year could've been somewhat different to previous years due to the Saracen's Head closing earlier in the year, however, as you'll also read on the 2017 season page all turned out well in the end and we were able to continue the tradition there as we've always done.
One more thing to look out for is an article about the Warburton Play that was published in the November 2017 issue of the Fortean Times.
As mentioned above we had chosen the Trafford and South West Manchester Branch of the Multiple Sclerosis Society as our charity for this year and so on the 5th December two of us attended their monthly Coffee Morning to present them with a cheque for £1520.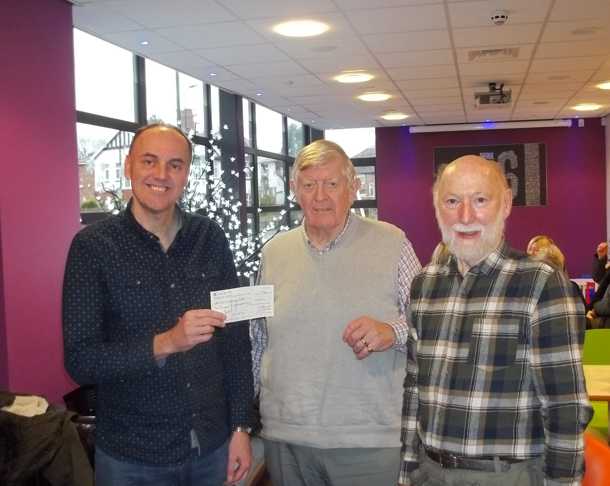 Andrew Maines (left) with the donation cheque

It's always nice to be able to give such a substantial amount and we know it will be put to good use for the benefit of local MS sufferers.
---
Souling 2016

In 2016 we donated all the proceeds from our collection after each of the performances to the Children's Adventure Farm Trust in Millington. On the 16th December a few of us went to the farm and presented them a cheque for £1450 as a result of those collections. At the same time we were also able to present them with a second cheque for £500 as a result of a single donation from Mike Grech, the company boss of one of our players, a gesture of which we're truly thankful.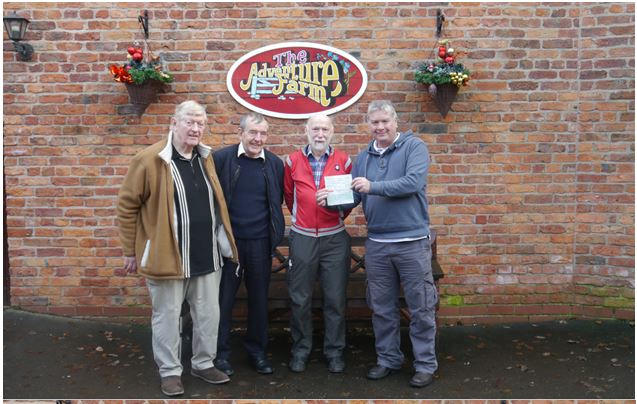 Presenting the two cheques to Rob Bashforth of the Childrens Adventure Farm Trust
More information about what happened in 2016 is available through the Souling in 2016 page.
---
One sad bit of information that came to us in 2015 was the closure of Cotebrook House in Lymm. This was one of our regular charities we'd supported for a good few years now. Due to the closure they'd never made use of the donation that we gave them in 2014. The donation of £1200 was therefore duly returned to us. After a bit of searching for another local charity to support we decided upon The Children's Adventure Farm Trust in Millington.
We therefore attended the 'Farm' on Wednesday 13th July 2016 and donated £1200 to them. We we're given a guided tour of the facilities, and very impressive they are to, so we'd very much like to support them in the future, and indeed all contributions will be going in their direction from this year's Souling.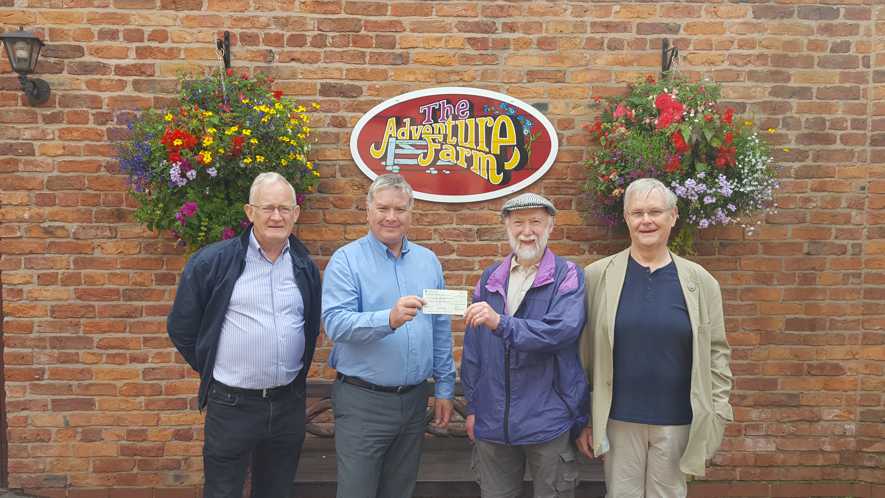 ---
Souling in 2015
The 2015 season of the Warburton Souling Play has been and gone, taking place over the first couple of weeks of November.
It started out on the 2nd November as the traditional first day of the 1st November fell on a Sunday this year. It then continued as usual being performed in and around the parish of Warburton during the first few days of November, those days being Monday 2nd, Friday 6th, Saturday 7th, Thursday 12th, Friday 13th and then finally finishing on Saturday 14th.
The funds collected this year, a total of £1550, went to the Trafford branch of the Multiple Sclerosis Society. You can read more about this and the 2015 season on the Souling 2015 page.
---
Also for a bit more help for those not familiar with the Play then please take time to have a look around to see what it's all about using the menus top left. The Parish of Warburton gives you an idea of where the Play comes from, History, a brief interpretation of this type of play and details of the Warburton play itself. For an alternative approach, you'll be able to get a good impression by looking at what we've got up to in the last few years by visiting the 'present' pages.
And for those wanting to look further back, try the Past Galleries from where you'll find links to some much earlier seasons.
If you need help in tracking down a specific page or you're looking for specific information then try the Site Map.