This year's Souling was once again restricted by the pandemic caused by the Covid-19 virus. Whilst there were good signs that the country was trying to get back to some sort of normality we felt that this year we still couldn't visit all the pubs we would usually have done in a previous 'normal' year, mainly due to them either being small or predominantly 'restaurant' based. With this in mind we decided just to concentrate on a few larger suitable venues in the area closest to Warburton.
We therefore elected to only go out on the 1st November and 6th November for the 2021 season.
On Monday 1st November we started at the Saracen's Head as is the tradition and from there we went to Hollins Green. Here we had arranged to go to the Black Swan.We were warned that this closes at 9:00pm on a Monday, however, when we got there at 8:30pm it was closed! So a quick discussion, and having spotted a number of people in the Red Lion a bit further back down the road we elected to go there instead. After a quick check with the licensee we slotted ourselves in to perform in between Bingo games. Very well received it was as well and we were made very welcome afterwards. We've not been here for a few years however, we'll most certainly be back next year!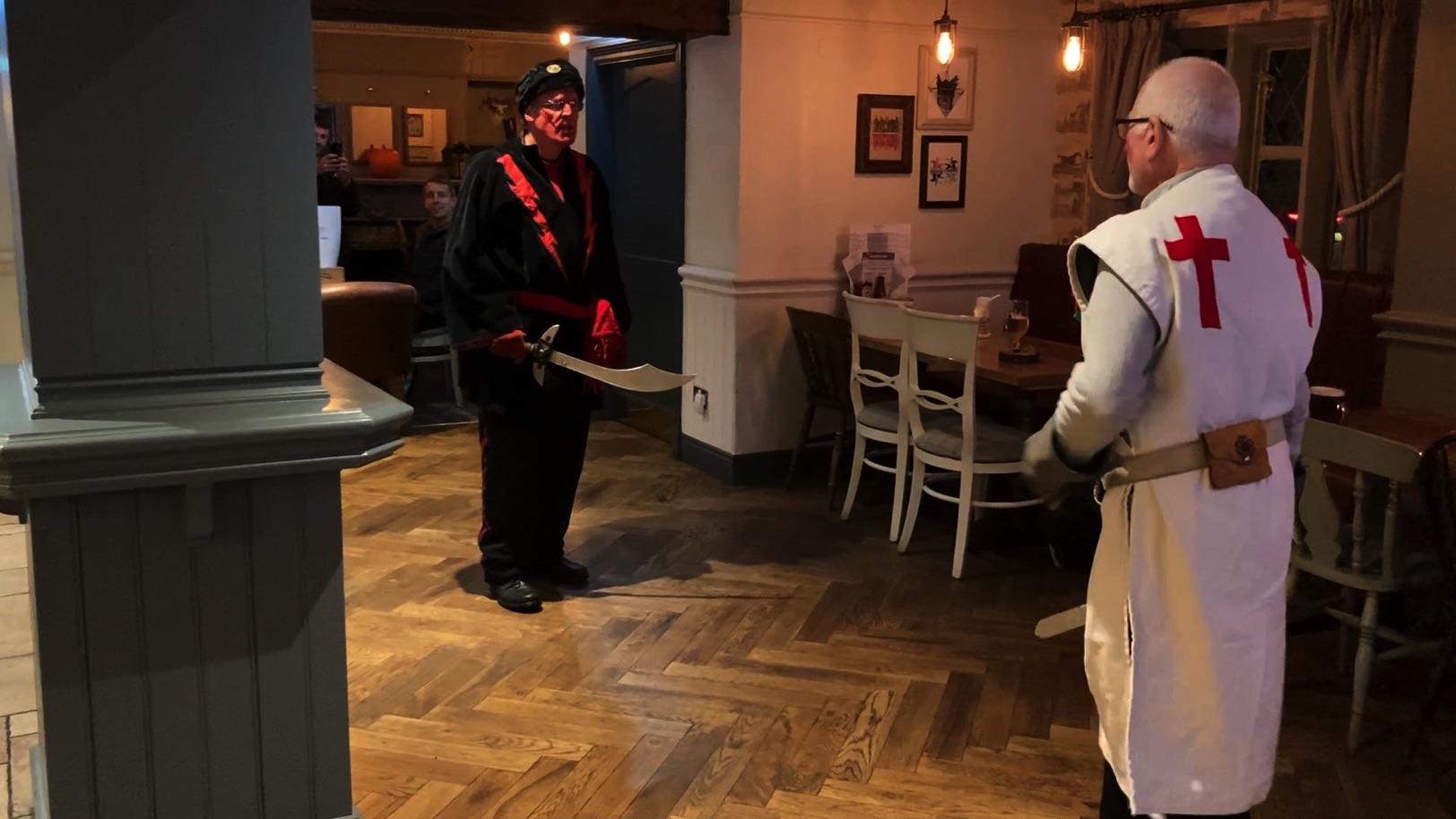 King Georg and the Turkish Champion in the Saracen's Head during the first performance of 2021. (Photo: Mark Seyler)
For Saturday 6th we did our first performance at the Lymm Heritage Centre at 4:00. This was kept as restricted access so as it allowed everyone to be suitably spaced out and to give us sufficient room to perform. Having met earlier in the Brewery Tap (just across the road) we went back there afterwards to then perform the play there. From there a short walk to the end of the road to the Spread Eagle.
After that it was a trip to Agden Wharf for the Barn Owl, and whilst it is predominantly an eating pub it has a nice large and spacious area where we can perform well away from those eating. It was then back to Hollins Green to have another go at performing at the Black Swan - this time successfully!
Finally we'll finish at the Saracen's Head at 8:00pm to have an evening meal followed by having a few songs and tunes amongst ourselves. A simple year but one in which the play was maintained.
This page updated: 9th November 2021.