The Warburton Souling Play - Performances 2018
---
| | | An interpretation, from our perspective, of how each evening was received. |
| --- | --- | --- |
---

This page is where you'll find a few notes and observation, from our perspective of course, about how the performances in 2018 were received.



First Night - 1st November 2018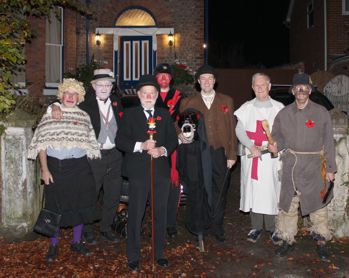 The Gang ready to leave for the Saracen's Head for their first performance of 2018.
Well off we went for the start of our Souling season and as is traditional the first 'port of call' was the Saracen's Head in Warburton. Quiet but well received. From here to the Black Swan in Hollins Green where we performed just prior to the start of the quiz. Plenty of people here for that reason, however we did have to make ourselves heard as the music was kept on during the performance.
On to two pubs close to each other in Agden, first the Wheatsheaf that was very quiet, followed by the Jolly Thresher, again quiet, but in both cases attentive audiences and very satisfying performances. At the Jolly Thresher, with it being a dog friendly pub, we had the (dubious?) pleasure of being heckled by three canine spectators that made the performance much more entertaining!
The last performance for the night was the Lymm Folk Club in the function room at the Spread Eagle in Lymm. A well attended folk club and thus an attentive audience. An excellent end to our first night and a good start to the season.

Second Night - 2nd November 2018
An evening in Knutsford awaited us with the first pub, The Builders Arms, just outside the main town centre. We arrived to an extremely well filled pub, and apparently if we'd been 20-30 minutes earlier we wouldn't have got in at all! Everybody was very attentive and welcoming and resulted in an amazing start to the evening.
From here we moved into the centre of town for what would be a 'walking tour' for the rest of the evening. The first one here was the Cross Keys, and whereas this pub had always been an extremely enjoyable venue in the past, since it's been refurbished, it's a very noisy place with very little attention being paid to us as we simply couldn't be heard. Totally the opposite can be said of the Rose & Crown though. Moderately full and with those people also very interested and watching attentively.
Half way through now and so onto the Freemasons. This is now under new management however, we were given a very warm welcome from the drinkers and from the management. One of those there was a gentleman born in Knutsford but who now lives in the US and who was over visiting. He was most fascinated by the play and at the end furnished us with a round of drinks. Thank you.
To the White Bear next, however this was extremely quiet, but 'the show must go on' and indeed it did. We were later told that Saturday is now the favoured night for Knutsford so after having moved to a Friday a year ago because Saturday was quiet and Friday was the favoured night we'll now need to move back again!
The last one was the Lord Eldon. Always a loverly pub to play in and as always very well received form those there. A fitting end to the night.

Third Night - 3rd November 2018
So, the third night, and our last of this, our first spell of Souling for 2018. This was round Lymm although it was preceded by a visit to Stathem and prior to that Agden Wharf and the Barn Owl. This is mainly an eating pub and so we had a good number of diners in attendance to complement those at the bar. It's always a nice open plan room here and so it gives us a relaxing start to the evening.
Next it was the Star at Stathem. Only a handful of people in, however we specifically played to one family in the bar area who very much enjoyed it. It's alway fascinating to wonder what the children think of such a play and what they'll remember of it in a few years time.
Into Lymm itself now for four or our regular pubs there with the first being the Bull's Head. It was nicely full, including a visit from one of our former members who did the play up to around 12 years ago. Now living in Yorkshire he came to view the play having been prompted with it being our 40th year. Next was the Saddler's Arms with as always a good welcome, however, whilst we've been doing the play here for many, many years, as well as Antrobus Soulcakers performing here it never ceases to amaze us how many people have not come across a Souling play before.
Two more to go, so across the road to the Brewery Tap. It can be quite awkward here with there being two rooms with just a small archway between the two. In the past we've tended to concentrate on one or other of the rooms, however this time with both rooms being attentive and quiet enough we played in the archway itself so both rooms had a good view.
The last one was the Spread Eagle where Nick the Landlord is very enthusiastic to such activities, so much so that after a successful performance here we were all offered a drink on the house. All gratefully received thanks and brought to a close our first half of our Souling season.
We've now a few days rest for our voices to recover then we start again for another three days, Thursday, Friday and Saturday, of this coming week. As mentioned elsewhere, our last day on the 10th November will hopefully have more of a party atmosphere to it with it being 40 years since the Warburton play was revived.

Fourth Night - 8th November 2018
The fourth night is our trip round Sale & Urmston and started at Jacksons Boat at the side of the River Mersey. As last year we had the local Land Rover club in attendance for a meeting and their fireworks evening. With a good sized audience it was a good start to the evening before moving on to the Bridge Inn. In the past this has been a nice venue to perform in with quiet and well attentive audiences. This was no exception. We were watched by one of our previous members who played the Doctor and he took great pleasure in pointing out our Doctor for the night had missed a line out!
From here it was into Urmston and one of our favourites, the Steamhouse. Excellent reception again. It's always nice to see those at the back standing on chairs so as they can see! Round the corner to the Prairie Schooner and here we played to the back room this year as that room was full. Heading back towards Flixton we stopped at the Brew Chimp. A new venue to us but one not too dissimilar in nature to the Prairie Schooner. A very good reception so I guess we'll be going back!
The last one was the Church Inn in Flixton. Another regular and always well received as we perform after the quiz has finished. A fitting end to the night, leaving us with two nights to go.

Fifth Night - 9th November 2018
This second Friday is our usual tour starting in Ashley and moving into Altrincham via Hale. Starting at the Greyhound it's always a busy pub early on and so from an audience's perspective it gave us the usual good start to the night, however from our perspective King George's sword broke! Fortunately it was still serviceable, if a bit shorter. From here to the Midland in Hale. This is normally a nice quiet pub with an appreciative audience. However this evening there were a couple of guys who insisted and making fools of themselves and at times spoiled it for those others watching.
The rest of the evening was in Altrincham where the first one was the Market Tavern. There's usually a band on on Friday evenings and so we perform between the sound check and them starting. When we arrived the sound check was still going on so we had to wait for 10 minutes or so. Once we performed we had a good enough reception with plenty of attention together with bit of jovial heckling! We were also provided with drinks on the house, a gesture that's always very welcome.
Half way through now and it was a 1 minute walk to the pub next door, the Orange Tree. We used to perform here many years ago until it go so quiet as to not be worth it. We had an enthusiastic and welcoming reception complimented by a round off the Landlord.
A slightly longer walk down Victoria Street to the Malt Shovels. Perhaps not quite as many in as usual but still a nice pub to perform in, even if there is a pillar in a slightly inconvenient place that gave King George something to hide behind and away from the Turkish Champion! Eventually he was found however for the fight to take place.
The last pub, Costello's, and one that's always nice and busy and results in a good reception. This was again complimented by a beer from the manager to bring the evening to a close.
One day left, and a new sword needed!!

Last Day - 10th November 2018
So, we find ourselves at our last day of this our 40th year since the play was revived. This started out with us meeting in the Saracen's Head before our usual first performance of the day at the Warburton Autumn Fair in St Werburgh's Church. It was here that King Georges new sword was put to the test following the breakage of the original in the Greyhound last night.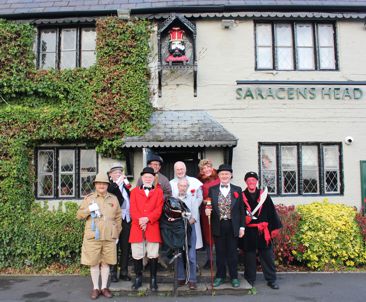 The Gang before heading off to Warburton Church for the Autumn Fair.
After this we headed back to the Saracen's Head before going to the Black Swan in Hollins Green for the first performance of the evening. Even at 6.00pm there always a good crown in to make it an excellent performance. We get a minibus for this tour so back on the bus to head to the Swan with two Nicks in Little Bollington. The two front rooms there provide a perfect atmosphere for a Souling Play and with those there, some of whom had come to see us, it was one of the more satisfying performances.
Back onto the other side of both the River Bollin and Bridgewater Canal, watercourses that make our journey traveling between the pubs much more tortuous, we next went to the Rope an Anchor where we're always welcome. Axe and Cleaver next, a similar pub in nature being mainly people eating at this time, but resulting in interested if not curious diners.
To the penultimate pub, the Green Dragon in Heatley, where we were met with what must be the smallest audience we've ever had there. Nevertheless a spirited performance was given before we headed off the the Saracen's Head for the last one of 2018. Sigh.....
There had been a sing-a-round run by Lymm Folk Club prior to our arrival there and when we got there the place was extremely busy indeed. A nice site to see resulted in a top notch performance full of various additional fun bits! Not a lot else that can be added other than it being an absolutely fitting end to the splendid Souling of 2018. Needless to say it was followed by a rousing music session and us all heading off home in the early hour of Sunday morning.
This page updated: 12th November 2018.