The Warburton Souling Play - Performances 2010
---
| | | An interpretation, from our perspective, of how each evening was received. |
| --- | --- | --- |
---

On this page it is normal for us to give a brief description of how we got on in each venue for each evening. In 2010 however, we are lacking the reports for the last three nights. We'll endevour to do better in 2011!

The First Night - Monday 1st November 2010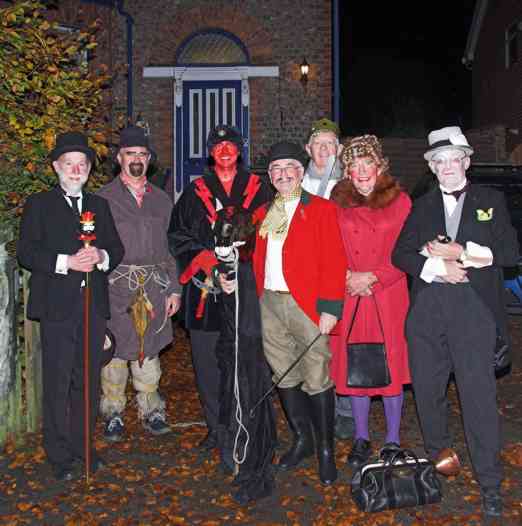 The Gang at Larchfield House ready to leave for the Saracen's Head in 2010

Following our now usual meet at Larchfield House we headed out at just before 8.00pm toward the Saracen's Head. Our first performance of the year duly started there at around 8.15pm. There were a number of people there including some from Bollin Morris who where there for their practice night.Following the performance it was time for a sit down and a relax and have a beer after the rush of the evening in getting ourselves ready.

Shortly after 9.00pm we headed out to Ye Olde No. 3 in Little Bollington. It was the pub's Karaoke Night as well as the Darts night so we had a reasonable audience to play to. It was a well received with people coming out from various places to view us. Another drink then up the road to the Jolly Thresher in Broomedge and another well received and attentive audience. Some people were about to leave but were promptly ushered back in upon seeing us at the door!

It was then back over to the other side of the canal, not before having another drink courtsey of the Landlady (many thanks), for the last performance of the evening at the Vine Inn in Dunham Massey. Here it was quiz night and we started as soon as that was over and before the bulk of the participants left the pub. It was therefore another very good reception. All told one of the best first nights for some years.


The Second Night - Friday 5th November 2010

This tour was based entirely around Knutsford starting and finishing at two pubs just outside of the town centre with the other three being in the centre itself. It was a good opportunity for a walking tour. We started at the Leigh Arms, with probably around a couple of dozen people in the audience. Here we met up with a couple who had visited us two of years ago, one of whom is doing some research into the English tradition of 'blacking up'. They had come over from Sheffield were going to be following us around for the evening.

From here we moved to the Lord Eldon, this was the pub that was going to be furthest away from where we started and from where would walk back vie the other pubs to finish not far from where we started. The Lord Eldon is a most splendid atmospheric pub and one that is most appropriate for receiving a performance of a Souling play. It was therefore an exceedingly good performance and well-received. After the Lord Eldon we moved onto the White Bear. Now it soon became apparent that one of the hazards of the White Bear was its low ceiling. Whilst the sword fight seemed to pass without incident, unfortunately when the old woman came in she immediately collided with one of the ceiling lights with such a crack that we all thought she was going to knock herself out. Fortunately that was not the case but it was such a noticeable incident that it ensured that we had a full attention of the audience from there onwards!

The final pub in Knutsford town centre itself was the Cross Keys. This pub is a regular host to folk music sessions so it goes without saying that it was going to go down well here and indeed that was the case. One of followers thought that it was one the best performances that they had seen. That was because it took a bit of work to get the audience quite but once that was done we had their full attention and kept that attention. Finally it was a short walk back out of the town and up to the Builder's Arms. This was a lot quieter than we were perhaps expecting seeing as it was now nearing closing, time but nevertheless it was a very quiet and pleasant finish to the evening.

Compared with last year when we did Knutsford on a Wednesday evening and when it was absolutely deserted, this year on a Friday night met our expectations.

The Third Night - Saturday 6th November 2010

This Saturday tour has to be described as an evening of extremes. We started somewhat later than normal at the Black Swan in Hollins Green as we were due to perform before the Karaoke started at 9.00pm. We duly arrived at 8.40pm expecting to see a full pub but found only a few people in. We waited until just after 8.45 and started regardless to those there. Unfortunately we had to perform over background music emanating from the Karaoke kit with no attempt by its owner to turn it off for the performance! The Play was however well received by those there. By the time we left at 9.15 a few more people had arrived although it could still be described as quiet. From here we went to the Barn Owl in Little Bollington. Well, this was quiet - there were two people there!. The manageress came out to meet us and quite frankly suggested we didn't bother performing. A very dejected Gang were then seen wandering back to their cars.

Fortunately it was now up to the Wheatsheaf at Broomedge and here we encountered our usual moderately filled pub. Apart from one gentleman who thought not, it was nevertheless very well received. Here we happened upon a shooting group who we usually encounter in the Farmers Arms on our last night. I think they must have had that 'small world' feeling! After that performance we were all bought a beer from the landlady that was very gratefully received before moving on into Lymm. We did consider going to another pub on the way to make up for the loss of the Barn Owl however, the later start to the evening was beginning to show so we headed directly into Lymm.

In Lymm we first went to the Spread Eagle and performed to a couple of dozen people at most. All those there were however very attentive that made it worthwhile in the end. After a briefly toying with the idea of performing in the Golden Fleece, the look of a full pub at The Bull enticed us directly there before it got too late. Well, what a splendid reception. The Enterer went in and those at the front were turning round to 'hush' those in the rest of the pub. In the end it was a very satisfying and very well received performance and a good lift to what had been at best a very poor evening with regards to the numbers in the Black Swan and the disappointment of the Barn Owl. For a Saturday night we'd normally expect better especially as this tour has been better even when done on a Thursday.




This page updated: 5th October 2011.