The Warburton Souling Play - Performances 2013
---
| | | An interpretation, from our perspective, of how each evening was received. |
| --- | --- | --- |
---

On this page it where you'll find a few notes and comments from our perspective about how the performances in 2013 were received.

Last year's first night - Wednesday 1st November 2013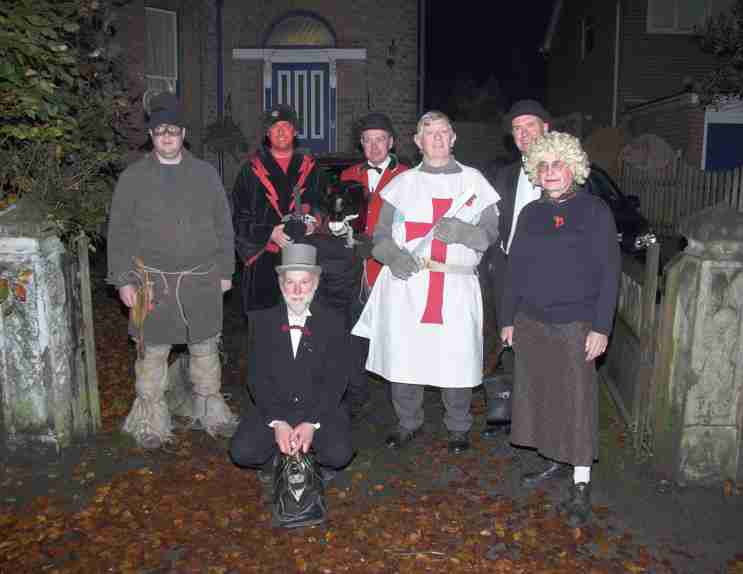 We started as we should at the Saracen's Head in Warburton. Quite a few people in as there had been a children's Halloween party earlier so there were a few stragglers from that. From there to the The Black Swan in Hollins Green we we had what is now the usual good, if perhaps slightly noise reception. Very gratifying to see the kitchen staff come out to watch.
Next it was into Lymm and first The Saddlers Arms. It's always a cosy pub to play to and always appreciated. Across the road to a new pub, the Old Post Office, one of the Dunham Brewery's outlets that opened in the summer. After a bit of a delay when we had to accost a unsuspecting customer to go and ask the bar staff to turn the music off for us we eventually got going, performing to those in the front room. Very well received, and of course a beer on the house very well received from us. Thank you.
Last for the night it was to The Bull, always a favorite of ours as again it's a cosy pub and always has a nice reception for us.
Second Night
The second night was a tour around Knutsford. In the past we've done this on a Friday however we plumped for a Saturday this time. At one point we were also wondering if we were going to have a complete gang as our Doctor was in need of a doctor himself. He'd missed the first night and we thought he was going to miss the second but in the end he decide to give it a go as there was not a reserve that night to stand in for him.
It started with a very nice and friendly performance in the Builders, where we normally play in the Lounge area but as there were more in the Bar we went in there instead, with King George and the Turkish Champion having to move chairs aside to make room for TC to die. A very nice start.
However the next, the White Bear was quite quiet but nevertheless there were interested people in there, three of whom we dragged allong the the next pub!. It was also a lovely example of how a table of three people with the play taking place alongside them can completely ignore it all!
We were starting to think that Knutsford on a Saturday was not a good plan with the White Bear being quiet, however that feeling was premature as the Lord Eldon was nice an full with people coming from the other side rooms to watch. As always, nice and cosy. Then if that was not enough the next, The Freemasons, was very similar, full but not heaving with people from a private party in an adjacent room coming to watch.
The penultimate, the Rose and Crown, was heaving, however, whilst it was noisy they did group around and watch with interest, with a few of them taking an opportunity to be photographed with us - ahh the fame! Last to the Cross Keys and just as we started one female came in, who we suspect was the 'scout' for the rest of her group to find where to go next, saw what was going on went and fetched them all so another 20 or so traipsed in as King George and the Turk were doing their bits. All told a very good end to a very good night.
Third Night
After a short break we re-commenced on Wednesday 6th November for a tour of Agden, Statham and ending up in Dunham. Now was that a quiet night or was it a quiet night?
We probably didn't get more than 20 in any one of the pubs with the numbers being more like a dozen. However we do have to say it was well received by those that were present as it becomes quite in intimate performance in those circumstances - much different to a full pub where there can be plenty of audience interaction. We also feel it worthy of singling out the generosity of those in the Wheatsheaf who quite spectacularly bolstered our collection for Cotebrook House.
Fourth Night
What a difference 24 hours makes. 5 pubs all full, but not crowded, with really good attentive audiences.
We started with at The Old Plough in Ashton upon Mersey village where the pub was just starting to fill for the evening. A very good reception and a good start. Off the The Volunteer in Sale where we performed just before the start of the evening's pub quiz, so we had a ready made audience. Again a good, attentive and quiet audience.
Next we moved into Urmston and Flixton where the first of the three there, The Roebuck, was very well populated and thus was very well received. This has been quit quiet in the past two or three visits, not on this occasion though. Down the road to The Steamhouse in the former station buildings of Urmston Railway Station. This is always a very good reception, and on this visit it was even better! Absolute silence (except for one foul mouthed character who was quickly told to shut up at the start!). We had people coming up to us afterwards saying how good and different it was and thanking us for making it a splendid evening.
The last one was back to Flixton and The Church. We had to wait a few minutes whilst the quiz finished, so as with the Volunteer, it was a ready made audience. And as with the Volunteer a beer on the house so thank you both.
Fifth Night
This is our regular tour around Altrincham and Hale, and it being a Friday is always busy in a number of the pubs.
Costello's, Dunham Brewery's 'Brewery Tap' was first. Perhaps not as many as when we played it for the first time last year, but still a good start. Here our Beelzebub who came out of retirement for this evening managed the first beer with ease. A quick trip the bottom of Victoria Street and the Malt Shovels. This is always a pleasant pub to do and again we weren't disappointed. A bit further up Victoria Street to The Roebuck next. We've not been here for many a year as it became unappealing to us. It still is a difficult shape to perform in as it's still a typical 'street pub' with individual rooms. We played in the front room next to the bar and although there was one table full of youngsters totally confused and having blank look on their faces it seemed to go down well enough with the others there.
The last one here in Altrincham was the Market Tavern. Now very much a regular to us as we time it to perform after the band's sound check but before their actual start. A ready made audience although not as many and not as attentive as usual.
Back to our transport and to Timperley and the Quarry Bank. It's always full, as in this case, and it can sometimes be a bit on the noisy side, as was the case this time. Still we managed and it went down well enough. So it was then to the last one, The Railway in Hale. This pub is also usually full and can be noisy. Whilst it probably wasn't the fullest we've ever had it was the noisiest! This time is was very difficult to perform and due to there simply being too many people having consumed more than they could cope with it was the most unpleasant performance we've done for many a year.
The penultimate night over, one to go.
The Last Day
Meeting as we've now done for a good few years in the Saracen's Head for our lunch we first walked down the road to Warburton Church where we performed at the Autumn Fair - well that was after we were somewhat delayed having to wait for a huge, and quite violent thunder and hail storm to pass before we dare set foot outside. Our Turkish Champion was certainly not wanting his sword to become a lightening conductor!
We were due to perform for the residents at Cotebrook House, our chosen charity this year, however this ended up not being possible. Not possible due to the state of health of the Gang! It had been a real struggle to get the Play out this year as we were suffering a major cold/flu outbreak within gang. With this in mind and some of the gang members possibly still infectious it was best for both us and Cotebrook that we did not perform there. So that meant we just had to head back to the Saracen's Head and consume some more anesthetic!
Once suitably 'fed and watered' it was off for an early start of the evening tour. This was first to the Axe and Cleaver in Dunham where we had a very good reception with a good population of diners and drinkers. Our contact there, Roger, being on the ball in providing the drink for Beelzebub so as he did not upset any of their diners by running off with one of theirs! This was our Beelzebub No1 of the night as were were splitting the role with our regular player being one of the worst affected by our cold and flu plague
After another heavy shower whilst we performed, it was round the other side of the Bridgewater Canal to the Swan with Two Nicks in Little Bollington. Now this is only about 1mile as the crow flies but 5 miles by car! Excellent as always. It's quite a big pub going back a long way but we tend to ignore the dining half at the back and play to the front rooms. This being more of an intimate and cosy environment and a pleasure to do.
Back to the transport and on to Lymm and The Crown. We used to perform here quite a lot but after a considerable break we performed here again a few years ago. However after as the manager changed we only did that once before returning this year as there was yet another new manager. Playing at the front this was probably the less well received venue for the evening, due in part to some people who were not really interested, and whilst not being difficult their mannerisms did not aid the performance. One large family table with some children however, had much more interest.
Two down, three to go, and after a quick swap round between Beelzebub and the Driver it was off to the Spread Eagle where the manager was there awaiting for us giving us guidance as to where to perform. In this case it was in an area just in front of where the evening's entertainment was due to play. Whilst a ready made audience, and we've had a few those this year, there was one table showing little interest but the rest were extremely receptive.
The Green Dragon in Heatley was our penultimate performance for this evening, and for this year. Another pub and an excellent reception. The manager was again there to greet us and once ready we started to find that the whole pub was quiet. It's quite a large area stretching out to each side beyond the bar area so it all being quiet is unusual. It was good as everyone right to each of the far sides was trying to see and hear what was going on. Certainly one of the better performances there, if not the best, and most probably helped by the manager informing those there of what would be happening.
So after the manager had taken a photo of us under his sign it was off to the Saracen's Head. This time, as yet another heavy shower had started we made use of motorised transport rather than walking. As always there was that gentle buzz from inside the pub when we got there, although not as many as there has been in the past, but certainly a good enough crowd. As always a good end to the season with the rest of the gang taking the mickey out of the Driver with his false mustache by all coming in with 'blacked on' mustaches!!
And so that was it for another year, butties and an evening of song and music ensued, although there was very little of the former as due to the lurgy within us most of the Gang had knackered voices, and our usual group of singers were not there.
50 weeks to wait then we can do it all again. Suppose I'd better find something to do for the rest of the time then!
See the Itinerary for more details of where we went.
This page updated: 11th November 2013.